News
Information about the previous annual meeting is now online here
March 12, 2018 - Rochester, Minnesota
Mayo Clinic Announces Gainey Named Visiting Professor
Mayo Clinic Department of Neurology and the Division of Cerebrovascular Diseases announced Dr. Steven M. Greenberg as the 2017 Gainey Named Visiting Professor. In his presentation, Dr. Greenberg discussed aspects of the MarkVCID consortium and its aim to deliver high-quality biomarkers to increase understanding and treatment of small vessel disease. Dr. Greenberg also led a seminar in adjunct with the Mayo Clinic's Department of Neurology, Neurosurgery and Health Sciences at Grand Rounds to staff, residents, and fellows.
The Departments of Neurology, Neurosurgery and Health Sciences Research at the Mayo Clinic oversee a Named Visiting Professorship in Stroke and Related Diseases provided by the late Mr. Daniel C. Gainey. For more information about the Department, click here.
February 2, 2018 - Los Angeles, California
NBCUniversal Telemundo Features MarkVCID Research Site USC's Alzheimer's Study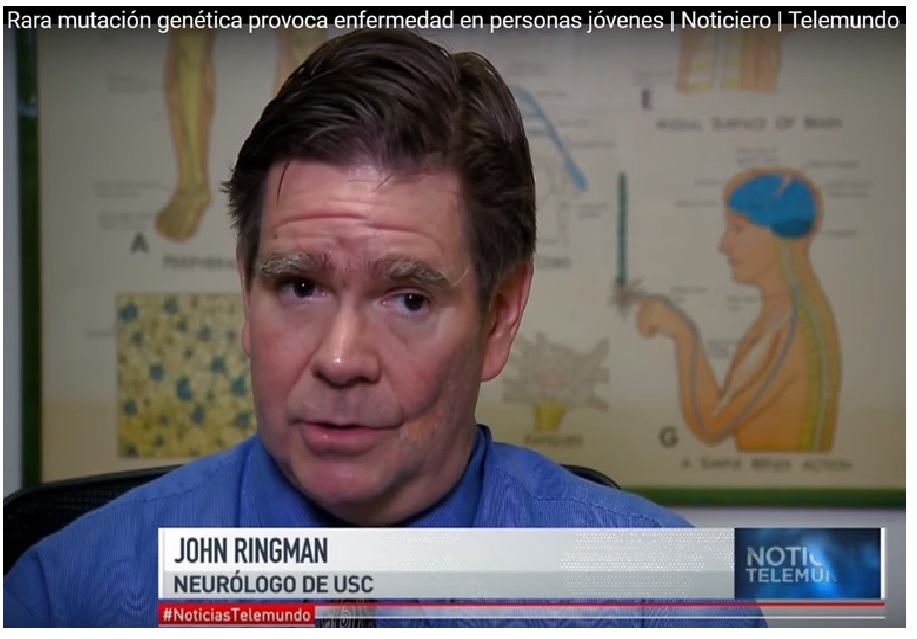 University of Southern California investigator Dr. John Ringman discusses a rare genetic mutation that causes disease in young people.The research site will enroll participants from these families in MarkVCID to assess small vessel disease in this form of Alzheimer's Disease.
[See feature in Spanish]
January 25, 2018 - Los Angeles Convention Center
MarkVCID at International Stroke Conference 2018
On Jan 25, 2018, the AHA International Stroke Conference features the MarkVCID Consortium as a part of its 2 ½-day agenda covering over 1,500 presentations in 21 categories that emphasize basic, clinical and translational sciences.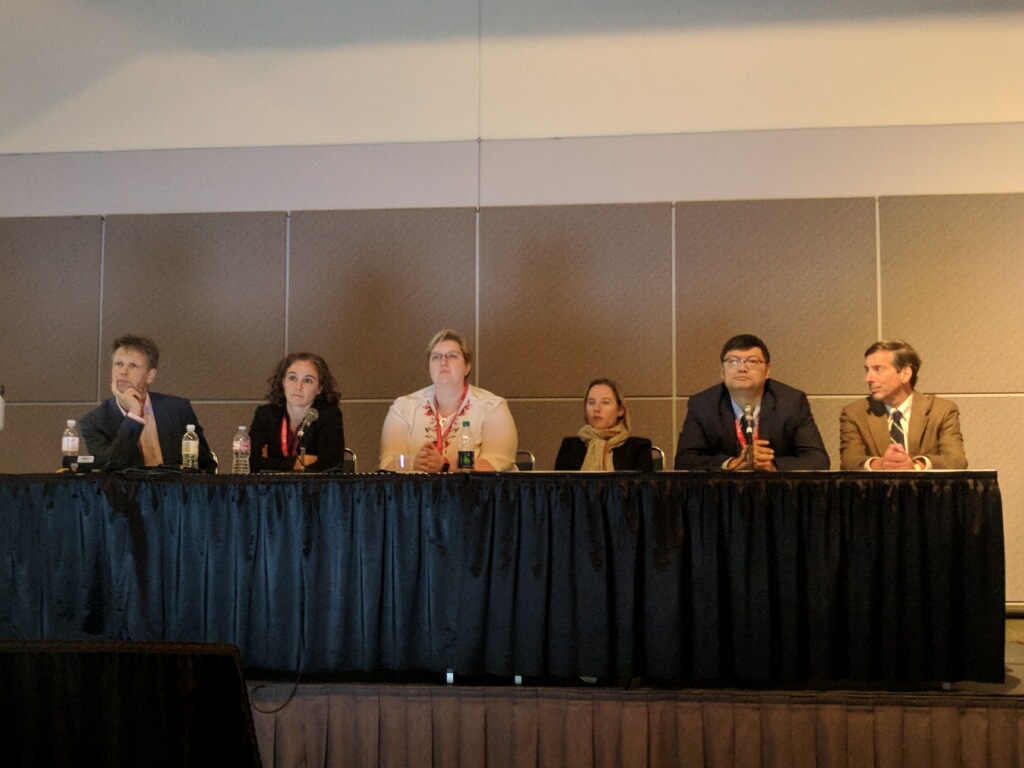 The panel discussion entitled, "Marking Vascular Cognitive Impairment: MarkVCID" begins with an overview of the Consortium goals, science, and structure from MarkVCID Coordinating Center PI Steven M. Greenberg. The panel invites Consortium PI's Danny JJ Wang (University of Southern California) to discuss multimodal MRI biomarkers and Donna Wilcock (University of Kentucky) to discuss fluid-based biomarkers of cerebral small vessel disease. Participants learn about the challenges and successes of developing shared protocols, validating across sites, and achieving multicenter reliability for the discovery of clinical trial-ready biomarkers. Co-moderators include Johns Hopkins Bloomberg School of Public Health Faculty Rebecca Gottesman and Lille University Neurology & Stroke Centre Lead Investigator Charlotte Cordonnier.
Sharing a perspective from outside the Consortium, Institute for Stroke and Dementia Research Director Martin Dichgans speaks about international biomarker programs and collaboration opportunities. [For more information about ISC, click here]
January 22-23, 2018 - USC Keck School of Medicine
Annual MarkVCID Conference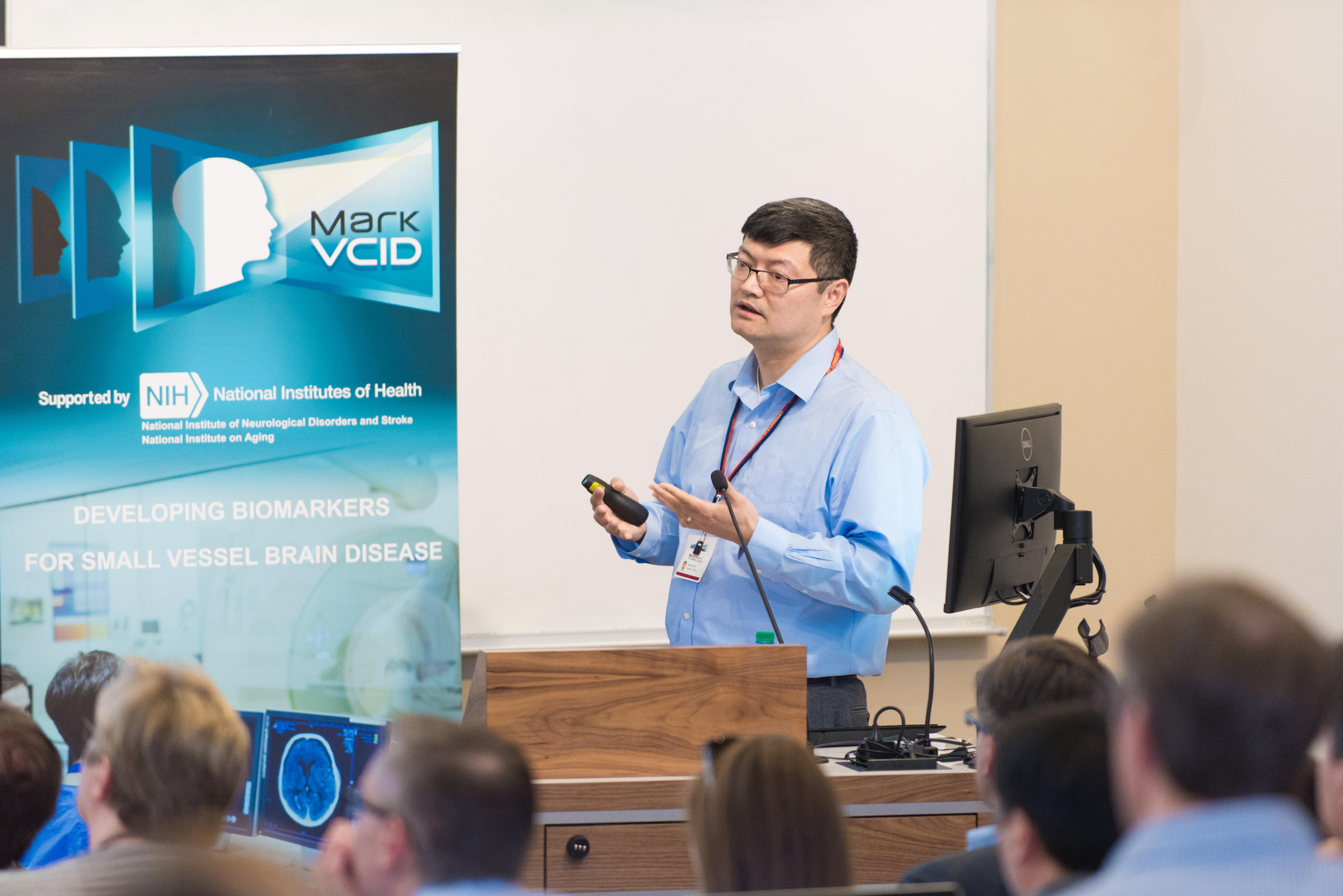 Preceding the AHA International Stroke Conference, the MarkVCID Consortium holds its second annual conference at the University of Southern California Keck School of Medicine. Nearly 100 contributors join from research sites nationwide to discuss the development of candidate biomarkers and treatments for vascular cognitive impairment.
[Read more]
July 11, 2017 – Stroke Journal
William M. Feinberg Award for Excellence in Clinical Stroke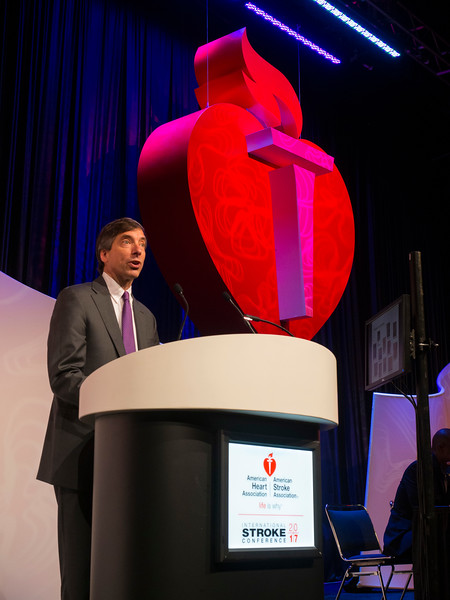 Stroke (Journal of the American Heart Association) features the MarkVCID Consortium in "Big Pictures and Small Vessels," by Steven M. Greenberg; September 2017, Volume 48, Issue 9
[Read more]
June 1, 2017 - Toronto, Canada
MarkVCID Participates in Harness Initiative Conference
MarkVCID Consortium Program Director & NINDS AD/ADRD Program Lead Rod Corriveau and Coordinating Center PI Steven Greenberg present the Consortium's background and goals at the HARNESS Initiative Conference. [Read more]
March 10, 2017 - Houston, Texas
MarkVCID Kickoff Meeting
The MarkVCID Consortium held its first Annual Meeting on February 20-21, 2017 in Houston, Texas just prior to the International Stroke Conference.
Wednesday, February 22, 2017
NIH MarkVCID Press Release
"NIH consortium takes aim at vascular disease-linked cognitive impairment and dementia MarkVCID brings team science approach to small vessel disease biomarkers in the brain." [Read more]
February 20-21, 2017 – Houston, Texas
First Annual MarkVCID Conference
The MarkVCID Consortium holds its first annual conference bringing together investigators from seven research sites nationwide.