News
July 13, 2020 – American Academy of Neurology, vol 95. No. 8
Whole-Brain CVR as Biomarker for Evaluating Cognitive Impairment
MarkVCID principal investigators Marilyn Albert and Hanzhang Lu in collaboration with other investigators from Johns Hopkins University published, "Association of cerebrovascular reactivity [CVR] and Alzheimer pathologic markers with cognitive performance," in American Academy of Neurology. The MarkVCID Consortium continues to support the development of the MRI CVR biomarker kit through multi-site implementation and validation.
Click here to read the article
Mar 30-31, 2020 – Virtual Conference
MarkVCID Reports Progress in Multi-Site Testing Efforts
Consortium investigators nationwide participated in MarkVCID's virtual conference to review study procedures, and share key accomplishments in multi-site testing, biomarker instrumental validation, and collaboration efforts with the SPRINT-MIND study. Members from the external advisory committee, the NINDS, and leading organizations including the BrightFocus Foundation, Novartis, Biogen, Alzheimer's Drug Discovery Foundation, and Alzheimer's Association contributed to the dialogue to help advance the Consortium's research in developing foundational biomarker kits for small vessel disease.
February 2020 – The BrightFocus Foundation
BrightFocus Supports MarkVCID OCTA Biomarker Kit

The BrightFocus Foundation is teaming up with NINDS and MarkVCID to develop a novel OCTA Biomarker Kit. The kit seeks to use central retinal vessel density as a biomarker of susceptibility to small vessel VCID. Five MarkVCID research sites (USC, UCSF, JHU, UTHSCSA, and Rush) will participate in multi-site testing of the OCTA Kit, which is led by Dr. Amir Kashani at University of Southern California. The protocol was developed to assess an OCTA-based biomarker of retinal vessel skeleton density in the central macula.
Special acknowledgments to BrightFocus' Vice President of Scientific Affairs, Diane Bovenkamp, PhD, for her guidance throughout the proposal process and to the donors of the Alzheimer's Disease Research, Macular Degeneration Research, and National Glaucoma Research Programs at BrightFocus.
Learn more about the protocol (login required) or read BrightFocus Foundation's announcement.
Jan 24, 2020 – PLoS ONE 15(1): e0227835
Biomarker for Cerebral White Matter Injury
MarkVCID co-investigator Jason Hinman in collaboration with other investigators from UCLA, UCSF, and UCD published, "An IL-18-centered inflammatory network as a biomarker for cerebral white matter injury," in the journal PLoS ONE. The study was funded by the National Institutes of Health, the American Heart Association, the MarkVCID consortium and the Lillian R. Gleitsman Foundation.
Click here to read the publication or click here for UCLA's press release.
Jan 7, 2020 – Journal of Alzheimer's Disease, vol 73. No.1
Correlates of WMH in Community-Based Cohorts
MarkVCID-Rush/IIT PI Julie Schneider and MPI Konstantinos Arfanakis in collaboration with other co-investigators published "Neuropathologic Correlates of White Matter Hyperintensities in a Community-Based Cohort of Older Adults," in the Journal of Alzheimer's Disease. Click here to read the article.
Nov 1, 2019 – Journal of Neuroscience Methods Vol 327, ScienceDirect
Confounds in White Matter Hyperintensity Quantification
MarkVCID principal and co-investigators at the University of Kentucky published "Post-acquisition processing confounds in brain volumetric quantification of white matter hyperintensities" in ScienceDirect Journal of Neuroscience Methods. Click here to read the article.
Sep 25-27, 2019 – Sydney, Australia
AAIC Satellite Symposium features MarkVCID Experts
Numerous MarkVCID investigators participated in Alzheimer's Association Satellite Symposium held in Sydney, Australia. MarkVCID MPI Charles DeCarli led a session entitled, "Vascular Contributions: Adding the "V" to ATN Framework" in which UCSF CoI Fanny Elahi presented on Plasma Exosome-based Biomarkers; UKY PI Donna Wilcock presented on CSF biomarkers; and JHU PI Hanzhang Lu presented on imaging-based biomarkers in VCID. Dr. Wilcock also served as session lead for novel biomarkers.
Click here to learn more about the Symposium.
June 17, 2019 – Boston, MA
MarkVCID's 3rd Annual Conference
May 2019 – Magnetic Resonance in Medicine Vol 81 issue 5, Wiley Online Library
Novel MR Pulse Sequence & Modeling Algorithm
MarkVCID site University of Southern California published "Mapping water exchange across the blood-brain barrier using 3D diffusion-prepared arterial spin labeled perfusion MRI." Click here to read the article.
Mar 23, 2019 – Human Brain Mapping Vol 40 issue 11, Wiley Online Library
AD and SIVD patients - Shared and Specific Brain Connectivity Abnormalities
MarkVCID site University of New Mexico Health Sciences Center in collaboration with The Mind Research Network published "Altered static and dynamic functional network connectivity in Alzheimer's disease and subcortical ischemic vascular disease…". Click here to read the article.
Mar 14-15, 2019 – Bethesda, MD
Alzheimer's Disease-Related Dementias Summit 2019
MarkVCID investigators shared research and chaired sessions at the two-day Alzheimer's Disease-Related Dementias (ADRD) Summit 2019 sponsored by the National Institute of Neurological Disorders and Stroke (NINDS) organized by NIH Lead Dr. Rod Corriveau and chaired by MarkVCID investigator Dr. Julie Schneider.
NINDS Director Walter Koroshetz in opening remarks emphasized research priorities including mixed and vascular dementias to assess the outcomes of the 2013 and 2016 ADRD Summits based on current science. Drs. Corriveau and Schneider followed with an overview of ADRD progress and updates to research recommendations.
Throughout the two days, MarkVCID investigators Drs. Myriam Fornage and Donna Wilcock presented and participated in panels discussing "Health Disparities in AD/ADRD" and "Vascular Contributions to Cognitive Impairment and Dementia" respectively. MarkVCID advisors Dr. Rebecca Gottesman and Ron Petersen also raised key topics including health disparities in AD/ADRD and strategies for identifying the needs of the research community.
For Summit goals and additional resources. Click here
Mar 12-14, 2019 – Washington D.C.
GCBH discusses the Links between Vascular and Brain Health
Several MarkVCID principal investigators participated in the three-day 2019 Global Council on Brain Health (GCBH) Vascular Risk Issue Specialist Meeting, a collaborative effort of AARP. Issue specialists Drs. Charlie DeCarli, Sudha Seshadri, and Steve Greenberg discussed topics including the relationships between vascular and brain health, aging, and lifestyle to brain health. Drs. Marylin Albert and Ron Petersen (Mayo Clinic) served on the GCBH Governance Committee, and Dr. Debra Babcock served as conference liaison from the National Institute of Neurological Disorders and Stroke (NINDS).
The GCBH meeting aimed to assess vascular health by looking at current science and recommendations for maintaining and improving individual health. AARP will release a vascular health report shortly.
For past reports, visit AARP's Resource Library.
Nov 7, 2018 – San Diego, CA
Society for Neuroscience features MarkVCID
NINDS Neurodegeneration Program Director & ADRD Program Lead Dr. Rod Corriveau presented the first wave of MarkVCID biomarker kits that are moving onto multi-site testing at the Society for Neuroscience (SfN) conference.
Imaging- and fluid-based kits include: White Matter Hyperintensity, Cerebrovascular Reactivity, Peak Skeletonized Mean Diffusivity, Arteriolosclerosis (WMH & diffusion anisotropy), Longitudinal WMH from 3-D FLAIR, Endothelial Inflammation, and Endothelial Signaling Kit.
Read more – PPT
July 25, 2018 – Chicago, Illinois
Alzheimer's Association International Conference® (AAIC®) Previews MarkVCID's First Wave of Biomarkers
NINDS Neurodegeneration Program Director & ADRD Program Lead Dr. Rod Corriveau presented MarkVCID's first wave of potential small vessel VCID biomarkers at AAIC that will be validated and prepared for large scale multi-site clinical research including interventional trials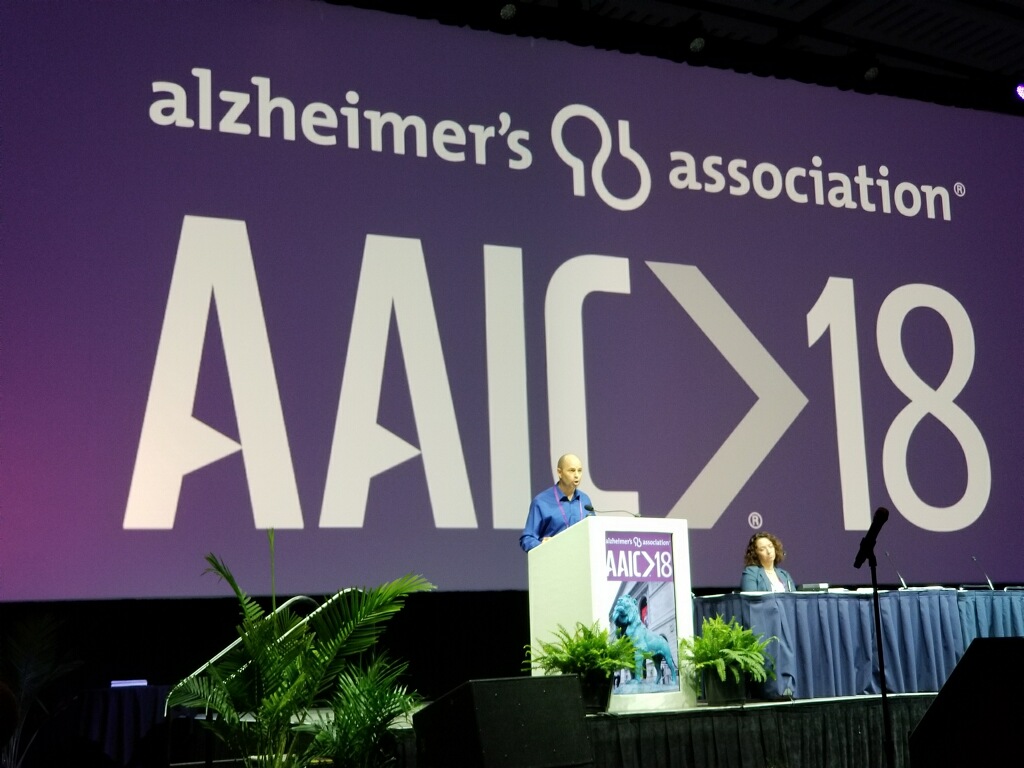 Based on the Coordinating Center PI, External Advisory Committee, and NINDS leadership's review, five imaging-based and two fluid-based biomarker kits presented the most compelling rationale, scientific rigor, connection to small vessel disease, cognitive outcomes, and clinical trial readiness. After multi-site testing begins for the first wave, additional biomarker kits will be considered on a rolling basis.
To support the effort to identify and validate biomarkers, the Consortium has agreed to collaborate on a series of core MRI protocols, collect a core set of VCID-related clinical and cognitive data elements and biosamples, and adopt fluid sample collection best practices. Participating sites have also implemented sharing policies and procedures that ensure seamless cross-validation of biomarkers and exchange of data. Read more about AAIC®
May 7-8, 2018 – Bethesda, Maryland
MarkVCID joins the NHLBI Working Group for VCID
Several MarkVCID investigators participated in the National Heart, Lung, and Blood Institute's (NHLBI) Working Group for Vascular Contributions to Cognitive Impairment and Dementia. The workshop aimed to "identify research priorities that complement and expand on the VCID Research Milestones developed by the 2016 Alzheimer's Disease-Related Dementia (ADRD) Summit." The working group's contributions will help guide NHLBI's efforts to support researchers in the field for the next 5-10 years.
MarkVCID PI Dr. Steven Greenberg (MGH) presented on the development and validation of biomarkers to study VCID in the MarkVCID Consortium. PI Dr. Sudha Seshadri (CHARGE) presented on atherosclerosis and dementia as known vascular contributing factors for dementia; and PI Dr. Julie Schneider (Rush) presented the impact of multiple vascular pathologies on trajectories and patterns of cognitive decline. Co-chairs Drs. Berislav Zlokovic (USC) and Rebecca Gottesman (EAC) moderated the workshop and remarked on current research in VCID and epidemiological studies. Read more
March 12, 2018 - Rochester, Minnesota
Mayo Clinic Announces Gainey Named Visiting Professor
Mayo Clinic Department of Neurology and the Division of Cerebrovascular Diseases announced Dr. Steven M. Greenberg as the 2017 Gainey Named Visiting Professor. In his presentation, Dr. Greenberg discussed aspects of the MarkVCID consortium and its aim to deliver high-quality biomarkers to increase understanding and treatment of small vessel disease. Dr. Greenberg also led a seminar in adjunct with the Mayo Clinic's Department of Neurology, Neurosurgery and Health Sciences at Grand Rounds to staff, residents, and fellows.
The Departments of Neurology, Neurosurgery and Health Sciences Research at the Mayo Clinic oversee a Named Visiting Professorship in Stroke and Related Diseases provided by the late Mr. Daniel C. Gainey. For more information about the Department, click here.
February 2, 2018 - Los Angeles, California
NBCUniversal Telemundo Features MarkVCID Research Site USC's Alzheimer's Study
Feb 2018 – Journal articles
MarkVCID Research featured in Frontiers in Neurology and Journal of Magnetic Resonance
University of Southern California MarkVCID PI Dr. Danny JJ Wang and co-investigators refer to the first stage (UH2) of MarkVCID research in publications including:
January 25, 2018 - Los Angeles Convention Center
MarkVCID at International Stroke Conference 2018
On Jan 25, 2018, the AHA International Stroke Conference features the MarkVCID Consortium as a part of its 2 ½-day agenda covering over 1,500 presentations in 21 categories that emphasize basic, clinical and translational sciences.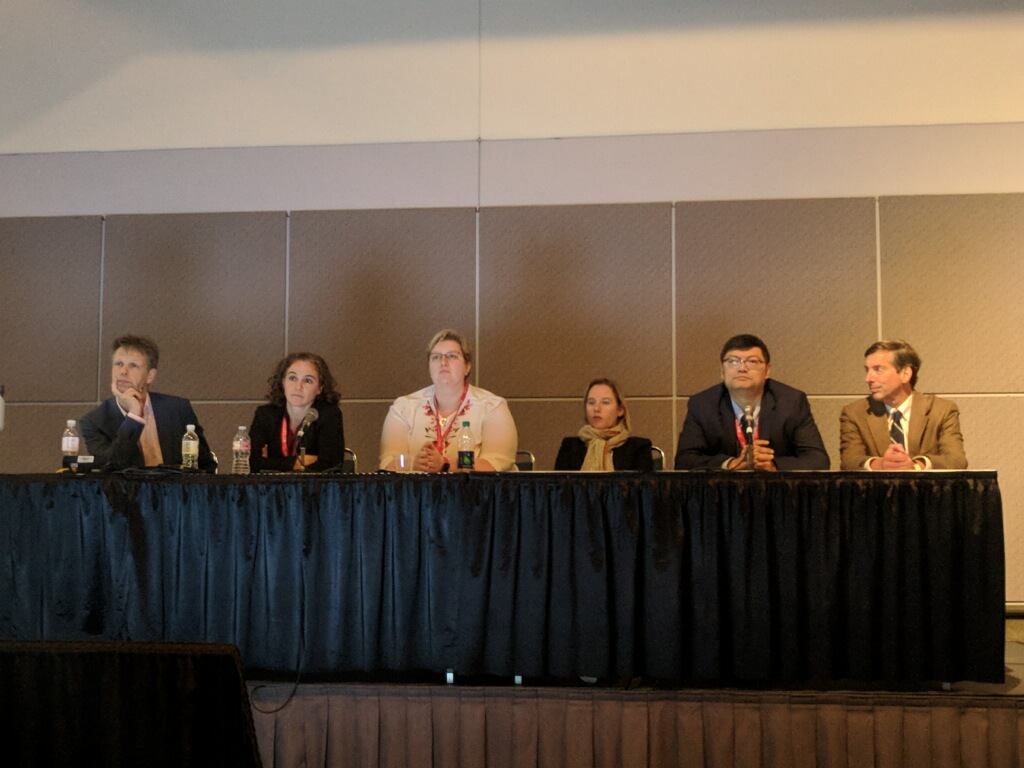 The panel discussion entitled, "Marking Vascular Cognitive Impairment: MarkVCID" begins with an overview of the Consortium goals, science, and structure from MarkVCID Coordinating Center PI Steven M. Greenberg. The panel invites Consortium PI's Danny JJ Wang (University of Southern California) to discuss multimodal MRI biomarkers and Donna Wilcock (University of Kentucky) to discuss fluid-based biomarkers of cerebral small vessel disease. Participants learn about the challenges and successes of developing shared protocols, validating across sites, and achieving multicenter reliability for the discovery of clinical trial-ready biomarkers. Co-moderators include Johns Hopkins Bloomberg School of Public Health Faculty Rebecca Gottesman and Lille University Neurology & Stroke Centre Lead Investigator Charlotte Cordonnier.
Sharing a perspective from outside the Consortium, Institute for Stroke and Dementia Research Director Martin Dichgans speaks about international biomarker programs and collaboration opportunities. For more information about ISC, click here
January 22-23, 2018 - USC Keck School of Medicine
Annual MarkVCID Conference
July 11, 2017 – Stroke Journal
William M. Feinberg Award for Excellence in Clinical Stroke
June 1, 2017 - Toronto, Canada
MarkVCID Participates in Harness Initiative Conference
MarkVCID Consortium Program Director & NINDS AD/ADRD Program Lead Rod Corriveau and Coordinating Center PI Steven Greenberg present the Consortium's background and goals at the HARNESS Initiative Conference. Read more
March 10, 2017 - Houston, Texas
MarkVCID Kickoff Meeting
The MarkVCID Consortium held its first Annual Meeting on February 20-21, 2017 in Houston, Texas just prior to the International Stroke Conference.
Wednesday, February 22, 2017
NIH MarkVCID Press Release
"NIH consortium takes aim at vascular disease-linked cognitive impairment and dementia MarkVCID brings team science approach to small vessel disease biomarkers in the brain." Read more
February 20-21, 2017 – Houston, Texas
First Annual MarkVCID Conference
The MarkVCID Consortium holds its first annual conference bringing together investigators from seven research sites nationwide.