MarkVCID Consortium Overview
---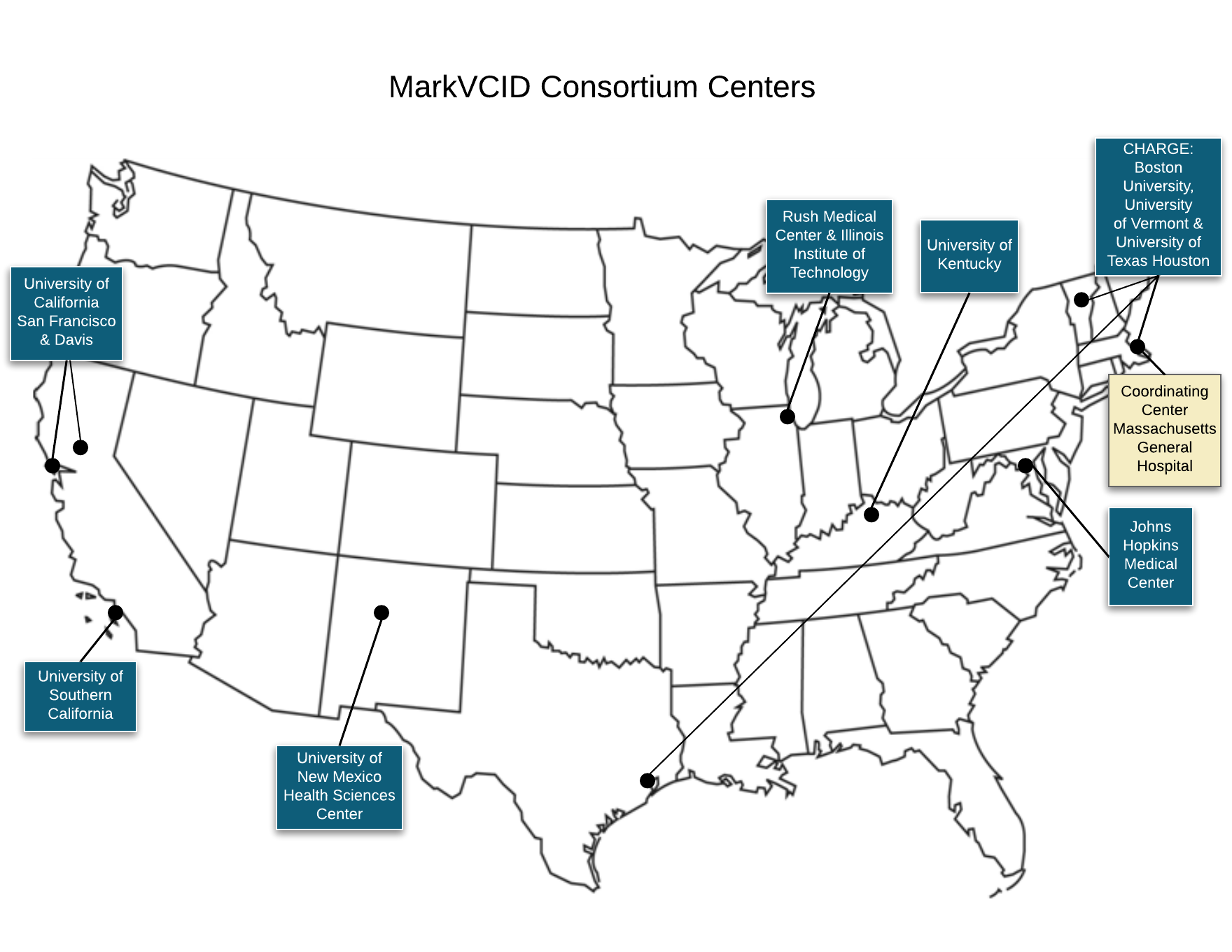 Age-related  cognitive impairment and dementia represent one of the greatest risks to public health both in the US and globally. Alzheimer's disease is the commonest cause of cognitive impairment, but diseases of the brain's blood vessels—particularly the network of small blood vessels that supply all parts of the brain—have also been shown to be major contributors. Many medical trials have been conducted to find ways to prevent cognitive impairment due to small vessel diseases, but have been hampered by the limited availability of "biomarkers" that identify which people should be treated, detect which disease pathways should be targeted, or indicate that a particular treatment is working. 
MarkVCID  is a consortium of US academic medical centers whose mission is to identify and validate biomarkers for the small vessel diseases of the brain that produce vascular contributions to cognitive impairment and dementia (VCID).  The overall goal of the consortium is to deliver high-quality biomarkers ready for use in clinical trials aimed at generating scientific breakthroughs in our understanding and treatment of VCID.
MarkVCID  is comprised of seven project sites and one coordinating center, each funded by grants from the National Institute of Neurological Disorders and Stroke (NINDS).  The 5-year mission of the projects sites is to analyze and optimize its their candidate VCID biomarkers (years 1-2) and participate in a consortium-wide program of biomarker scaling-up, multi-site protocol implementation, and multi-site validation (years 3-5). The 5-year mission of the coordinating center is to provide the organizational structure for the cross-site collaborations, oversee cross-site standardization of research protocols and data collection, and manage consortium-wide data.  Advisory advice and oversight to MarkVCID is provided by NINDS, an External Advisory Committee, and interested non-governmental organizations.
MarkVCID is open to and actively seeks collaborations with VCID biomarker investigators outside the consortium.